Having Your Head in the Clouds Can Make a Lot of Sense

What is Hot Cloud Storage?
Hot cloud storage is insanely cost effective and fast cloud object storage for any purpose. It is fast to write, fast to read and instantly available.
Wasabi is 80% cheaper and faster than the competition, with no fees for egress or API requests. And Wasabi hot cloud storage immutable buckets protect against the most common causes of data loss.
Unlike legacy cloud storage services with confusing storage tiers and complex pricing schemes, Wasabi hot cloud storage is extremely easy to understand and implement, and incredibly economical to scale. One product, with predictable and straightforward pricing, supports virtually every cloud storage application. 
Plus, Wasabi is fully compatible with Amazon S3 APIs. That means all your existing S3 storage management applications like backup and recovery tools work seamlessly with Wasabi
Disruptive Pricing
Affordable, simple and predictable, Wasabi's pricing blows away the competition. With two ways to pay, choose the model that works best for your business.
Wasabi's pay-as-you-go pricing model is billed monthly and is built to scale with your data needs.
Wasabi Reserved Capacity Storage makes buying cloud storage a natural addition to your on-premises storage. If you are thinking about
buying more hardware storage, compare the price against 5 years of Reserved Capacity Storage.
You can purchase cloud storage in 1, 3, or 5 year increments and achieve greater discounts for term and capacity.
Unlike Amazon, Google and Azure we don't impose extra fees to retrieve data from storage (egress fees). And we don't charge extra fees for PUT, GET, DELETE or other API requests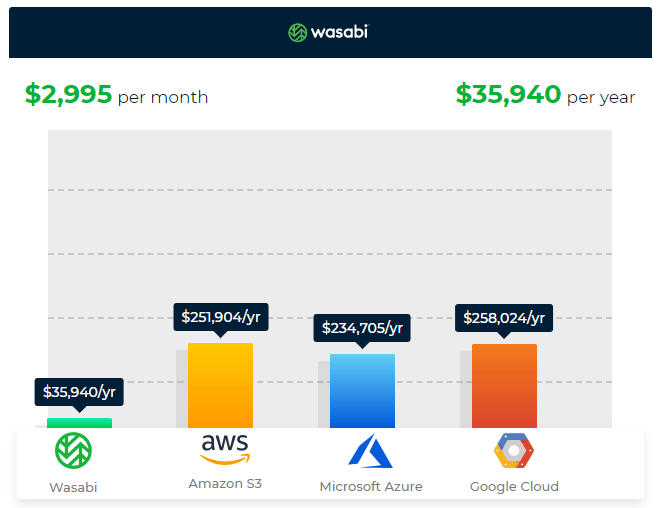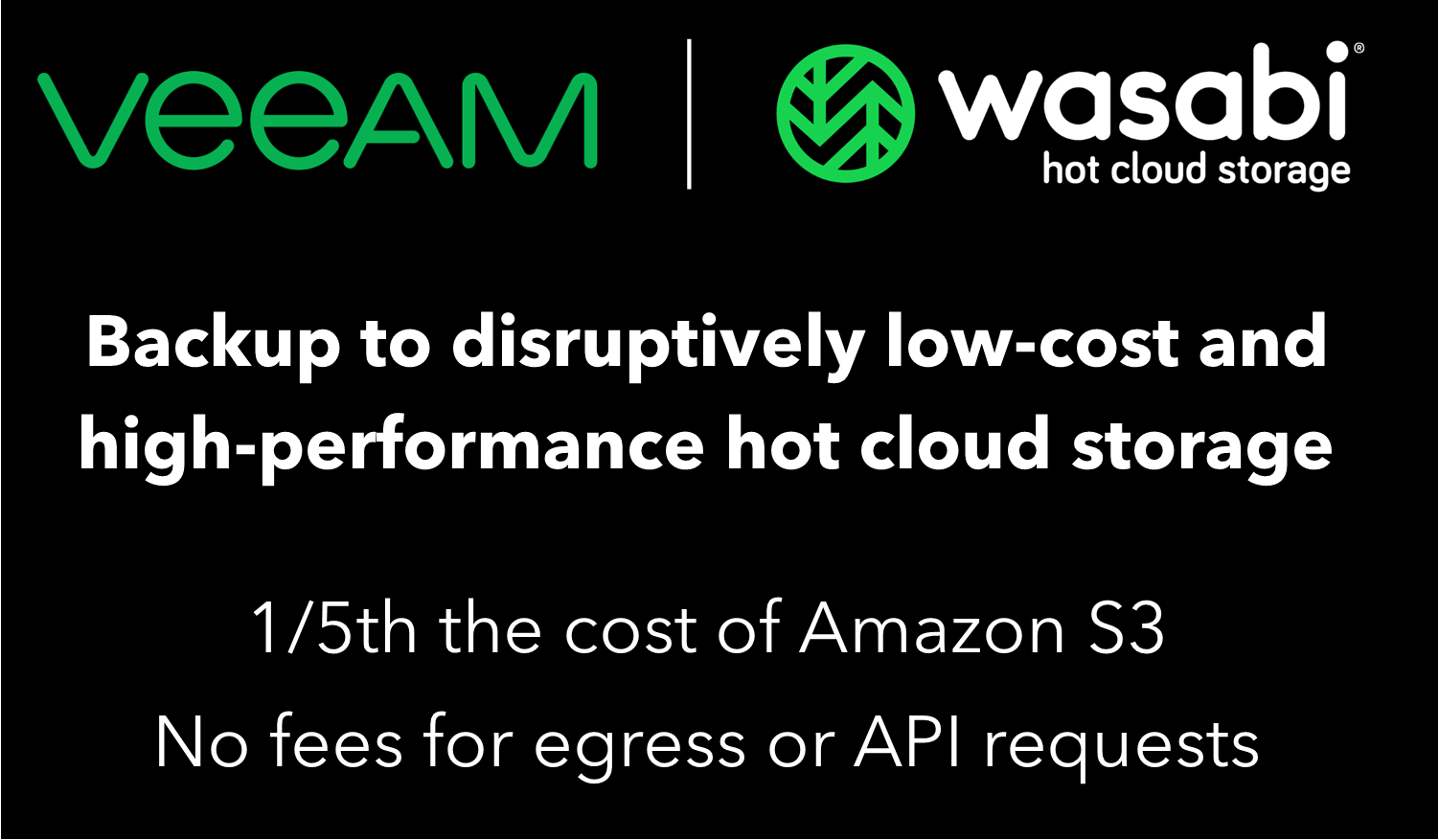 Veeam and Wasabi – Better Together
Customers using Veeam Backup & Replication with Wasabi's cloud storage reduce risk associated with data backup and recovery activities at a significantly lower cost than other solutions. The Veeam and Wasabi combination is cost effective, because it minimizes the requirement for on-premises hardware and allows businesses to realize the benefits of infinite cloud storage. And with Wasabi storage as an endpoint, customers can expect savings of 80% or more compared to AWS.
Running data backup and recovery operations on Veeam and Wasabi makes running these operations faster. This not only limits risk related to these activities but also helps ensure business continuity while reducing operational costs associated with backing up and recovering data.
Veeam Backup for Office 365 with Wasabi
Veeam eliminates the risk of losing access and control over your Office 365 data including Exchange Online, SharePoint Online OneDrive for Business and Microsoft Teams – so that your data is always protected. Now with their latest release, Veeam Backup for Office 365 v4, backup is even more affordable since they have introduced cloud object storage as a destination, and Wasabi hot cloud storage is interoperable with this new offering.
Veeam Availability Suite V10 with Wasabi
With V10 users can take more advantage of object storage – you can have all of your backups can be copied to object storage, once they are on premise storage, with one click of a box. This aligns with the 3-2-1 rule of backup, which requires one full copy of your data off site.
Remarkably Versatile
Inexpensive, fast and reliable, Wasabi is ideal for a wide range of applications. Some examples include:
Multi-cloud storage – keep a secondary copy of your S3 storage for 20% of the cost of Amazon S3

Hybrid Storage – protect and extend on premises storage investments
Big Data and IoT – move massive datasets in and out of storage at extremely high speeds
Regulatory compliance – meet stringent government regulations with encryption at every step and immutable data buckets
Media & Entertainment – store massive video libraries with breakthrough performance and economics
Video archiving – store any type of archived video for future search and playback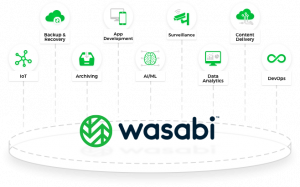 Work with Our Trusted Partners
Chi Corporation is a proud partner to some of the leading data storage, access, and backup solutions providers in the global IT industry. We value these partners for their ingenuity, their commitment to remaining on the forefront of the industry, and their unending dedication to creating better, faster and more cost effective solutions for our clients.
If you have questions or uncertainties regarding the right provider for your data needs, we should have a conversation. Let us know your greatest concerns, struggles, and worries, and we will help you find a real, workable solution to your challenges. When you work with CHI Corporation and one of our trusted partners, you will receive the highest level of customer service and a strong commitment to help you through every single stage of the process, from initial solution selection to post-implementation.