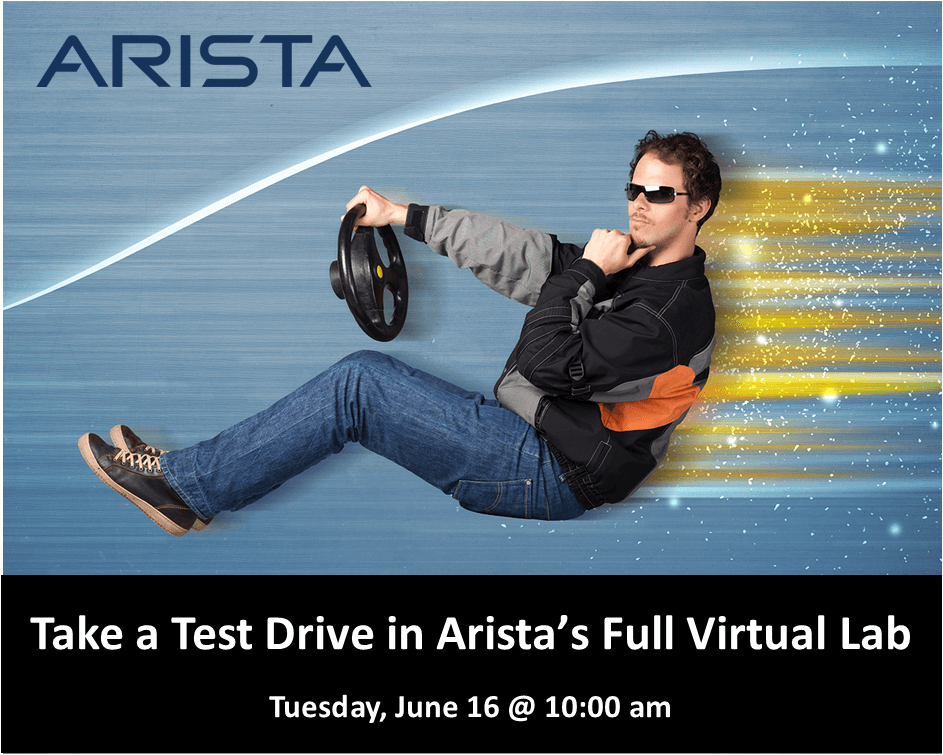 Join Arista Networks and Chi Corporation for an exclusive opportunity to test drive Arista's CloudVision in a full virtual lab and get a mind-blowing look into the industry's leading automation solution for cloud networking.

During our test drive, you'll be able to experience:
Arista OS in Production

Managing your network with old fashion CLI

Arista Software Defined Networking for DC and Campus

Real-Time Network Telemetry with CloudVision

Proactive Analysis & Troubleshooting with Arista AI Wi-Fi
Test Drive Arista Networks
Tuesday, June 16, 2021
10:00 am – 12:00 pm

The interactive test drive will run from
10:00 am – 12:00 pm.
From 12:00 pm – 1:00 pm, we'll enjoy lunch together, courtesy of a $25 DoorDash gift card we will send you, and discuss your thoughts and answer any questions.

Your personal virtual lab will remain open through June 26, 2021 so you can continue to test drive Arista's CloudVision in your own environment.
Questions? Contact your Chi rep or Christine Thome at 440-498-2312 and cthome@chicorporation.com 
Work with Our Trusted Partners
Chi Corporation is a proud partner to some of the leading data storage, access, and backup solutions providers in the global IT industry. We value these partners for their ingenuity, their commitment to remaining on the forefront of the industry, and their unending dedication to creating better, faster and more cost effective solutions for our clients.
If you have questions or uncertainties regarding the right provider for your data needs, we should have a conversation. Let us know your greatest concerns, struggles, and worries, and we will help you find a real, workable solution to your challenges. When you work with CHI Corporation and one of our trusted partners, you will receive the highest level of customer service and a strong commitment to help you through every single stage of the process, from initial solution selection to post-implementation.