Cloud-Managed Solutions to Rapidly On-Board New Remote Offices and Securely Support Teleworker Capabilities
With increasing demands for teleworker connectivity, as well as the growing need to rapidly connect temporary remote office locations, Extreme Networks offers the Portable Branch Office Kit so you can connect, secure, and manage remote sites and remote workers quickly and easily.
Combining SD-WAN, Wi-Fi, and cloud management into an easy to deploy, plug and play solution, this offer delivers the ability to provide an enterprise-class experience for all connected users, no matter where they reside.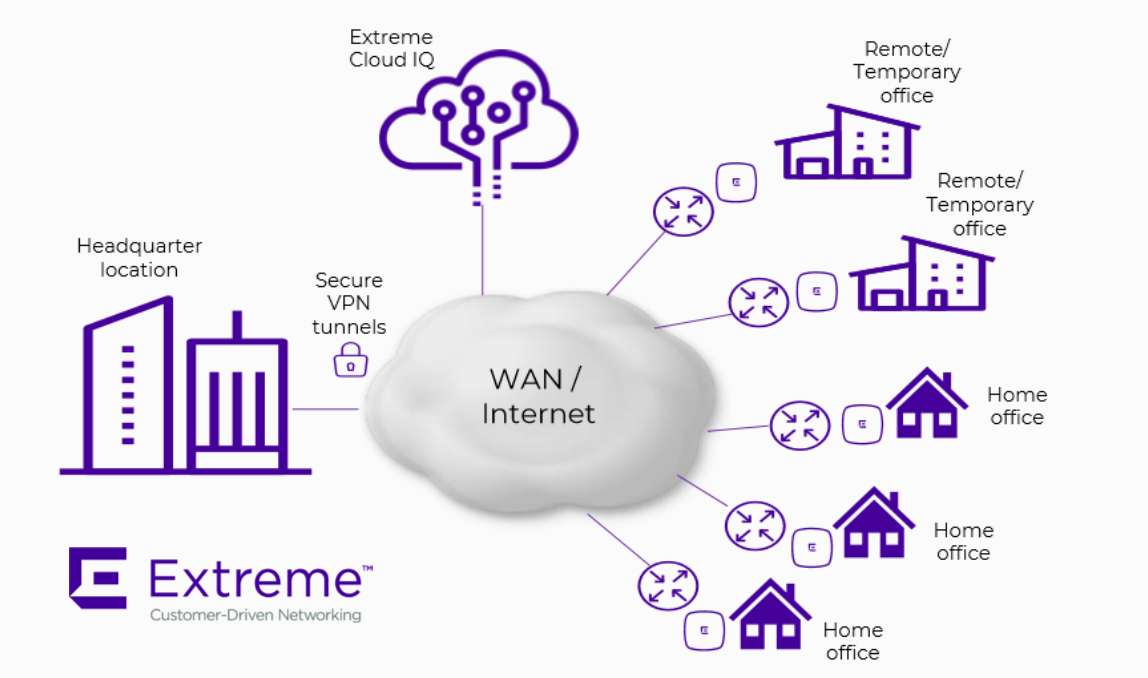 SMART
Rapid Deployment
New locations can be up and running in minutes with zero-touch provisioning
Flexible WAN Connectivity
Ability to connect remote sites with whatever WAN connectivity is readily available (Broadband, LTE, MPLS)
Flexible options for primary/ backup links with dynamic link-state monitoring/path selection
SIMPLE
Centralized Orchestration and Management
Remote locations without IT resources managed and provisioned through a single pane of glass
Prevention of Remote Office Sprawl
Integrated LAN/ PoE, WiFi, WAN and security capabilities in a cost-effective, space-efficient bundle
Simple Traffic Prioritization
Prioritize traffic from groups of users (all executives) and/ or prioritize application
s (video conferencing)
SECURE
Secure Teleworker / VPN Capabilities
Highly secure tunnels to support home-based workers as well as secure site-to-site connectivity
Integrated Security
L2-7 stateful firewall on XR routers and on the AP305C WPA3 and Private Pre-Shared Key for secure WiFi
Unified Policies
Across the SD-WAN and WiFi environments.
Special Financing Available
A 90-Day No Pay Promotion is available through Extreme Capital Solutions. For pricing information please contact John Thome, President of Chi Corporation,
at 440-498-2310 or jthome@chicorporation.com
Work with Our Trusted Partners
Chi Corporation is a proud partner to some of the leading data storage, access, and backup solutions providers in the global IT industry. We value these partners for their ingenuity, their commitment to remaining on the forefront of the industry, and their unending dedication to creating better, faster and more cost effective solutions for our clients.
If you have questions or uncertainties regarding the right provider for your data needs, we should have a conversation. Let us know your greatest concerns, struggles, and worries, and we will help you find a real, workable solution to your challenges. When you work with CHI Corporation and one of our trusted partners, you will receive the highest level of customer service and a strong commitment to help you through every single stage of the process, from initial solution selection to post-implementation.